Agneepath! a radical recruitment scheme for the armed forces, became violent as Army aspirants stopped train and road traffic in several parts of Bihar. Angry youth pelted passersby with stones, demanding the withdrawal of the new short-term recruitment scheme. Trains were set ablaze, rail and road traffic were disputed, bus window panes were smashed, and passersby, including a ruling BJP MLA, were pelted with stones by angry youth demanding the withdrawal of the new short-term recruitment scheme. Violent protests have now erupted across the country to various states.
22 trains had to be cancelled and five had to stop after completing partial journeys, East Central Railway said.
Baton-wielding protestors smashed glass windows of the intercity express train at Bhabhua Road railway station and set one coach on fire. Holding a banner saying "Indian Army lovers," they raised slogans rejecting the new recruitment scheme.
Must read: Agneepath Scheme: Government has unveiled a ground-breaking plan to recruit soldiers for 4 years.
In Nawada, agitators attacked the vehicle of BJP MLA Aruna Devi, who was on her way to court, hurling stones at her car, injuring five people, including the legislator. The BJP's Nawada office was also vandalised.
"The protesters seemed to have been provoked by the sight of the party flag, fitted on my car, which they tore. My driver, two security guards, and two personal staff members have sustained injuries," the MLA told reporters, adding that she was "too shaken" to have registered a police complaint.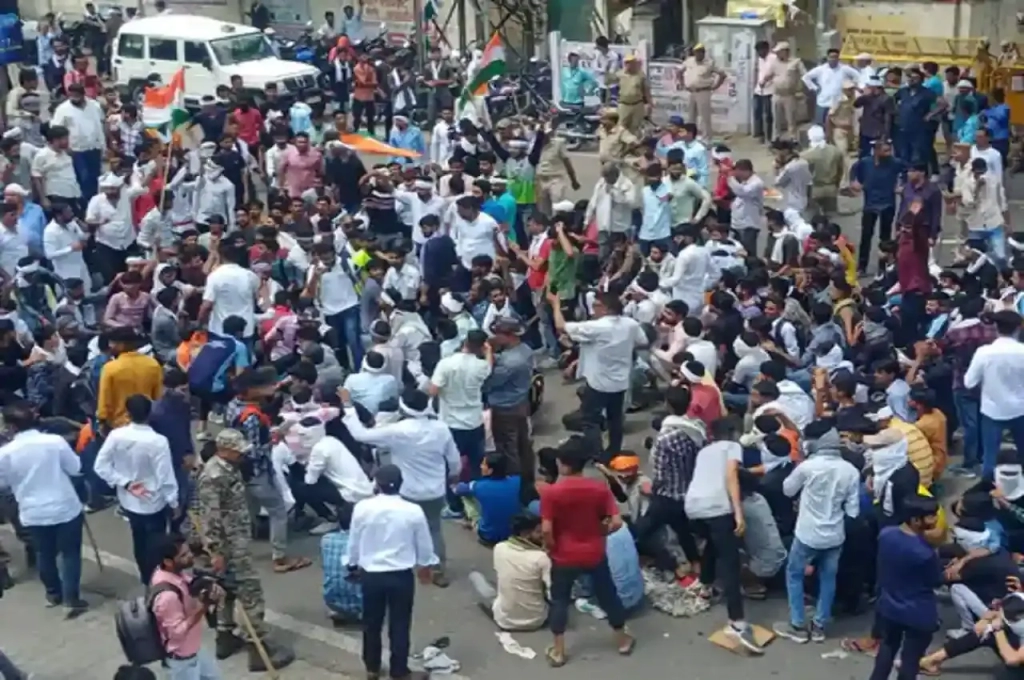 At the railway station in Arrah, police had to resort to tear gas shelling to disperse a huge crowd of protestors who pelted stones at the police.
In Nawada, a group of young men set fire to tyres at a public crossing and chanted slogans calling for the tour of duty plan to be repealed. They also burned tyres on the railway tracks at Nawada station and blocked the tracks.
The tour of duty system, Agneepath, advocates the contractual enlistment of jawans for a four-year period, followed by compulsory retirement for the majority of them without gratuity or pension benefits. The government's hefty pay and pension expenditures will be reduced as a result of the new recruitment plan, which will free up funds for arms procurement.
Violent mobs could also be seen in Chapra, carrying heavy wooden sticks and smashing state roadways buses in protest. Protests have been reported from several parts of neighbouring Uttar Pradesh as well.
Around 45,000 people between the ages of 17.5 and 21 will be admitted into the Agneepath scheme for a four-year period. They will be paid a monthly salary of Rs 30,000-40,000 plus allowances throughout this time. They will be eligible for medical and insurance benefits as well.
Only 25% of these troops will be retained after four years, and they will serve for a total of 15 years in non-officer ranks. The remaining employees will be paid between Rs 11 lakh and Rs 12 lakh when they leave the service, but they will not be eligible for pension benefits.
Youths between the ages of 16.5 and 21 were recruited for a minimum of 15 years of service and received a pension after retirement under the former system.
The new policy has been met with criticism and inquiries from a variety of sources, including veterans. Critics argue that a four-year term will dampen the ranks' fighting spirit and make them risk-averse.
"Two significant recommendations to the just-announced recruitment policy for the armed services; a. Increase the service period of new recruits to a minimum of seven years b. Make the retention of those wanting to stay longer at least 50%," tweeted Major General BS Dhanoa (retired).
Keep watching our YouTube Channel 'DNP INDIA'. Also, please subscribe and follow us on FACEBOOK, INSTAGRAM, and TWITTER.