JEE-Main: In the engineering entrance exam JEE-Main results (Session 1), which were released on Monday, fourteen applicants achieved a flawless score.
According to the National Testing Agency (NTA), Telangana had four individuals who received the highest scores in the inaugural JEE-Main (2022) cycle, followed by Andhra Pradesh (3). Jasti Yashwanth VVS, Rupesh Biyani, Aniket Chattopadhyay, and Dheeraj Kurukunda are the top scorers from Telangana.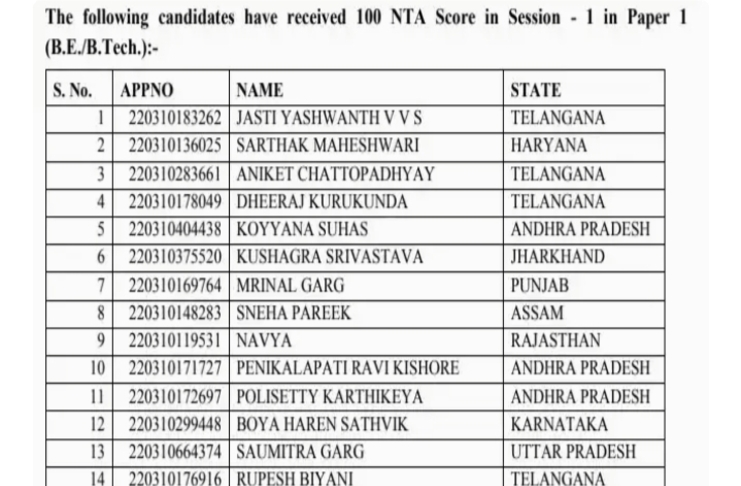 Koyayana Suhas, Penikalpati Ravi Kishore are Polisetty Karthikeya are the top scorers from Andhra Pradesh.
Sarthak Maheshwari (Haryana), Kushagra Srivastava (Jharkhand), Mrinal Garg (Punjab), Sneha Pareek (Assam), Navya (Rajasthan), Boya Harsen Sathvik (Karnataka), and Saumitra Garg are more applicants that received a perfect mark (Uttar Pradesh)
Sneha Pareek from Assam is the only woman in the top 14.
Out of the perfect scorers, 10 are from the general category, two from EWS, and two from OBC category.
"Over 8.7 lakh candidates had registered for the exam while 7.69 lakh had appeared," a senior NTA official said.
588 testing locations in 407 cities, including 17 cities outside of India, took part in the exam, including Manama, Doha, Dubai, Kathmandu, Muscat, Riyadh, Sharjah, Singapore, Kuwait City, Kuala Lumpur, Lagos, Colombo, Jakarta, Vienna, Moscow, Port Louis, and Bangkok.
In order to ensure that the exam was conducted fairly and efficiently, he continued, "almost 550 observers, 424 city-coordinators, 18 regional coordinators, 369 deputy and independent observers, and two national coordinators were deployed to the examination centres."
The official clarified that the NTA score and percentage of marks earned are two different things.
The official explained that the NTA score is not the same as percentage of marks obtained.
"NTA scores are based on the relative performance of everyone who took the exam in one session and are normalised results across multi-session examinations. For each session of the examinees, the marks earned are turned into a scale ranging from 100 to 0, "the representative added. PTI GJS Candidates who took the JEE Main Session 1 exam can check and get their results online at jeemain.nta.nic.in, which is the official website.
From July 21 to July 30, JEE-second Main's session is scheduled. The ranks of the applicants will be announced following the conclusion of both JEE (Main)-2022 testing sessions, taking into account the best NTA score out of the two.
MUST READ: UPSC NDA, NA 2 Notification Out – Check the Details and Apply Here
Keep watching our YouTube Channel 'DNP INDIA'. Also, please subscribe and follow us on FACEBOOK, INSTAGRAM, and TWITTER.