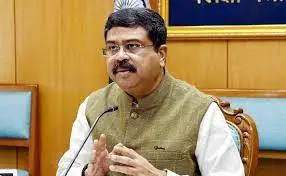 Union Minister for Education, Skill Development, and Entrepreneurship Dharmendra Pradhan thanked Prime Minister Narendra Modi for his decision to fill 10 lakh government posts in mission mode over the next 1.5 years.
He further stated that all vacant teaching and non-teaching positions in higher education institutions, Kendriya Vidyalayas, Jawahar Navodaya Vidyalayas, and other departments will be filled as soon as possible.
The Union Minister of Education and Skill Development said, they are committed to filling all vacancies in their respective ministries within the next 1.5 years. This move, he says, is crucial and people-centered, and it will help to better the employment situation and bring hope and optimism to India's youth.
Also read: NEET UG Latest Update: Aspirants To Get Extra 20 Minutes Time To Attempt Questions
He went on to say that under Prime Minister Shri Narendra Modi's leadership, accountability, people-centric governance, and meeting targets on time are hallmarks of this government.
In a written reply to the Rajya Sabha earlier this year, Pradhan stated that 6,558 teaching and 15,227 non-teaching positions in the country's central institutions are empty.
The openings arose as a result of retirements, resignations, and increased demands due to increased student strength.
He also stated that the schools are taking various steps to resolve faculty shortages in order to ensure that students' studies are not disrupted.
Keep watching our YouTube Channel 'DNP INDIA'. Also, please subscribe and follow us on FACEBOOK, INSTAGRAM, and TWITTER.