A significant seminar titled "Doubling Farmers Income by 2022 and Beyond – Role of Agri Community Service Centers through Village Level Entrepreneurs (VLEs)" was successfully organized today in Uttar Pradesh. The seminar aimed to explore strategies and solutions to enhance the income of farmers in the state.
Distinguished experts, policymakers, researchers, and stakeholders from the agriculture sector gathered at the event to discuss the critical role played by Agri Community Service Centers and Village Level Entrepreneurs in achieving the ambitious goal of doubling farmers' income. The seminar commenced with a warm welcome address delivered by Prof. (Dr.) Jayanand, Pro Vice-Chancellor of Shobhit Institute of Engineering and Technology Meerut. Dr. Jayanand expressed his enthusiasm for the seminar's objective of doubling farmers' income and emphasized the pivotal role played by Agri Community Service Centers and Village Level Entrepreneurs in achieving this goal. He highlighted the need for collaborative efforts and innovative approaches to address the challenges faced by farmers, ultimately leading to their economic empowerment and improved livelihoods.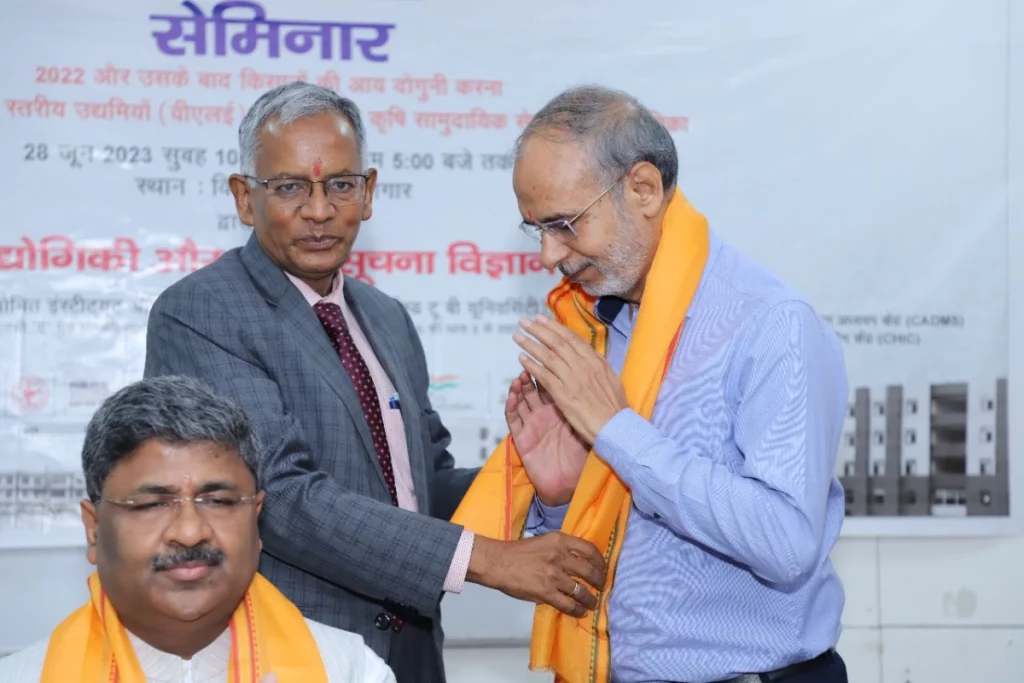 The event witnessed the presence of esteemed speakers who shared their insights and expertise on various aspects of rural development, governance, technology, and sustainable farming practices. Some of the prominent speakers included:
Hon'ble Shri. Kunwar Shekhar Vijendra – Co-Founder and Chancellor of Shobhit Institute of Engineering and Technology (Deemed to be University) Meerut and Shobhit University, Gangoh, Saharanpur. He provided valuable perspectives on holistic approaches to address challenges faced by farmers, including education, skill development, and capacity building.
Dr. Dinesh Kumar Tyagi IAS (Retd) – A retired Indian Administrative Service (IAS) officer and former Managing Director of CSC e-Governance Services India Ltd. Dr. Tyagi shared his expertise on leveraging technology for rural development, e-governance solutions, and government initiatives that support farmers.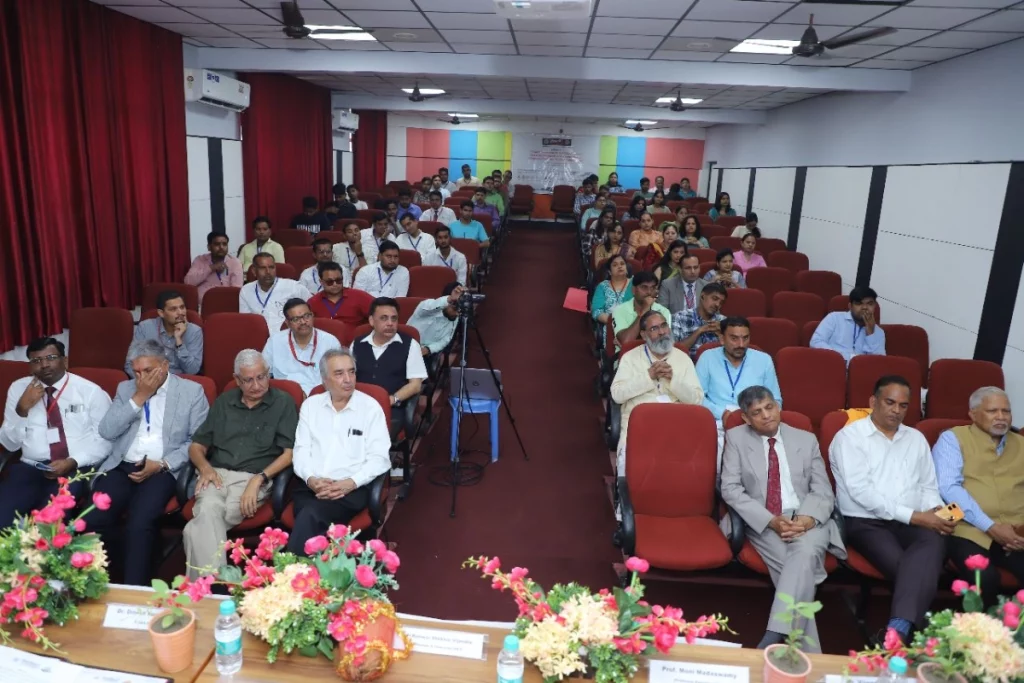 Mr. Rajiv Aggarwal – Board Member, Network People Services Technologies Ltd. With his expertise in technology and innovation, Mr. Aggarwal discussed the potential of digital solutions in addressing challenges such as access to market information and financial services.
Dr. D. P. Singh – Founder and Managing Director, Unnati Krishi Evam Herbal Techno-Solutions Pvt Ltd. Dr. Singh provided insights into sustainable farming practices, organic fertilizers, and eco-friendly pest management techniques using agricultural technology and herbal solutions.
D. Gowri Shankar – FABORG Ltd, Villupuram, Tamilnadu. Mr. Shankar shed light on market linkages, value addition, and post-harvest management, highlighting opportunities for farmers to increase their income through value chain integration.
Prof. Dr. Sahdev Singh – Director, Department of Agriculture. Prof. Dr. Singh shared knowledge on government initiatives, research, and development in the agricultural sector, focusing on best practices and technological advancements.
Dr. Sanjay Chaudhary – Industry Fellow, School of Business, University of Petroleum and Energy Studies, Dehradun, Uttarakhand. Dr. Chaudhary offered insights into market strategies, financial planning, and business models relevant to the agricultural sector, guiding farmers in building sustainable enterprises.
Prof. Moni Madaswamy – Professor Emeritus and Chairman at Shobhit Institute of Engineering and Technology Meerut. Prof. Madaswamy shared expertise in agricultural research and development, providing valuable insights into advanced agricultural techniques, sustainable farming practices, and technological innovations.
Mr. Vijendra Singh – Senior Director (IT) and DIO (District Information Officer) at the National Informatics Centre (NIC), Meerut. Mr. Singh discussed the application of information technology in agriculture, focusing on digital platforms, data management, and information systems supporting farmers in their daily operations.
The seminar concluded with a vote of thanks delivered by the Dean, Prof. V K Tyagi, expressing gratitude to all the speakers and participants for their valuable contributions. He acknowledged their insights and expertise, emphasizing the significance of their collective efforts in achieving the goal of doubling farmers' income. Prof. Tyagi also extended his appreciation to the organizers, volunteers, and support staff for their tireless efforts in making the event a resounding success.
The seminar served as a platform for fruitful discussions and collaborations, fostering the exchange of ideas and innovative solutions to uplift the agricultural sector and improve the lives of farmers in Uttar Pradesh.