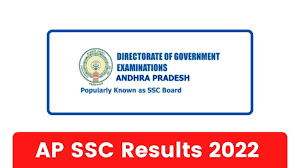 Andhra Pradesh Board of Secondary Education, BSE AP is finally declaring AP SSC Results 2022 on June 6, 2022. After a delay of 2 days, Manabadi AP 1oth Class Results 2022 time is here and the Marks Memo link will be activated at 12 pm. Students can check their results online on the official and other websites as well.
Where can Students find the AP SSC Result 2022 ?
SSC results 2022 AP are available on the official website: bse.ap.gov.in. They can also get AP 10th results 2022 by sending an SMS to a designated number.
Students in BSE AP are also recommended to check the AP SSC Results 2022 solely on the official website. Even if results and a link to get the Marks Memo will be accessible elsewhere, it is highly suggested that you use the official website link for AP 10th Results.
Details showing on the Andhra Pradesh SSC result 2022 Roll number are listed below.

.Names of the students and the school district
.The following topics were featured in (Three language and three non-language papers)
.Internal scribbles
.Achieved average grade point
.Status of qualification (Passed/Failed)
AP SSC Result 2022 will be announced at 11 p.m.
A press conference will be held at 11 p.m. to announce the AP SSC Result 2022 for Class 10th. Adimulapu Suresh, the education minister of Andhra Pradesh, is expected to declare the AP SSC results in 2022. The AP SSC 10th results 2022 were supposed to be released on June 4th.
ALSO READ : Ministry of Law & Social Justice's Department of Legal Affairs initiated an internship program for LLB students
The board administrators, however, have postponed the bse.ap.gov.in AP SSC result 2022. To protect the interests of children and parents, the Board has also advised schools not to publish SSC exam ranks in any way at any level. Students can access their AP SSC results via the official websites bse.ap.gov.in ,manabadi.
Formative written test makes 70% weightage in the marks distribution
The marks evaluation committee has agreed to give the formative written test 70% weightage in the allotment of 10th class marks. According to rumours, the government has constituted a high-level committee chaired by the chairwoman to announce the results after cancelling 10th grade examinations due to Covid-19.
The committee met on Wednesday to decide on the procedure to be utilised for mark distribution. For a total of 50 points, the formative test included 20 points for the written test, 10 points for projects, 10 points for note book writing, and 10 points for children's involvement in class. Currently, the written test will be given 70% weightage and the other marks will be given 30% weightage. This year, two formative tests were done.
Keep watching our YouTube Channel 'DNP INDIA'. Also, please subscribe and follow us on FACEBOOK, INSTAGRAM, and TWITTER.