Post-Graduate Admissions 2023-2024: All candidates who are desirous of seeking admission to the Postgraduate Programs of the University must appear in the Common University Entrance Test (Post-Graduate)- 2023 (CUET(PO)-2023) to be conducted by the National Testing Agency. Only the scores obtained in CUET (PG) 2023 will be considered for admissions to the academic year 2023-24.
Before appearing in CUET (P)-2023, candidates must ensure that they fulfill the Program-Specific Eligibility. They must refer to the University's PG Bulletin of Information (published on the University website, admission.uod.ac.in) to select the CUET Test Paper/s as per the requirements of the specific Program/s. They must also refer to the syllabus of the CURT papers available at the NTA's website, cut.nta.nic.in
Candidates who are appearing in the qualifying degree examination will also be eligible to appear in CUBT (PG) 2023 However, they must fulfil the Minimum Eligibility Criteria at the time of admission to the University.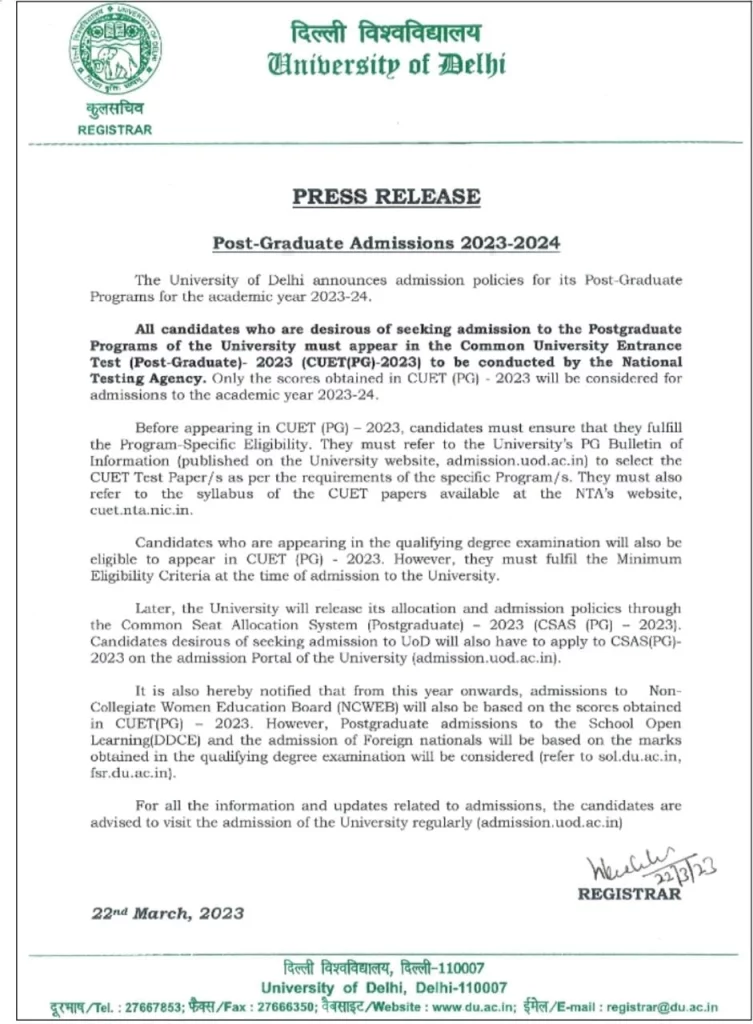 Later, the University will release its allocation and admission policies through the Common Seat Allocation System (Postgraduate) 2023 (CSAS (PG) 2023). Candidates desirous of seeking admission to UoD will also have to apply to CBASIPGI- 2023 on the admission Portal of the University (admission.uod.ac.in).
Also Read: BECIL Recruitment 2023 Job Notification Issued, Details Here
It is also hereby notified that from this year onwards, admissions to Non- Collegiate Women Education Board (NCWEB) will also be based on the scores obtained in CUET(PG) 2023. However, Postgraduate admissions to the School Open Learning DDCE) and the admissions of Foreign nationals will be based on the marks obtained in the qualifying degree examination will be considered (refer to sol.du.ac.in.fsr.du.in)
For all the information and updates related to admissions, the candidates are advised to visit the admission of the University regularly (admission und ac.in)
Also Read: CBI Recruitment 2023: Apply for Central Bank of India Apprentice Recruitment by March 3