Chandigarh: According to the Performance Grading Index for Districts (PGI-D) report from the Union Ministry of Education, the UT has been ranked as the sixth best district in the nation for educational quality.
For the 2019–20 report, the ministry has created the district-level index for the first time. In the district rankings, the UT received a 457 out of 600 rating. Sikar district in Rajasthan came out on top, scoring 488, and was followed by Kannur district in Kerala, scoring 461. Chandigarh has done better than any of Delhi's divisions. New Delhi division (438) scored the most points in the nation's capital, 19 fewer than the University of Texas.
MUST READ: REET 2022 Application Deadline Extended Again Till 23 May – Check Out the Details Here
Chandigarh also topped the Tricity, with Mohali securing 419 and Panchkula 358 points. Performance Grading Index (PGI) is a relatively new parameter to measure the performance of states in school education.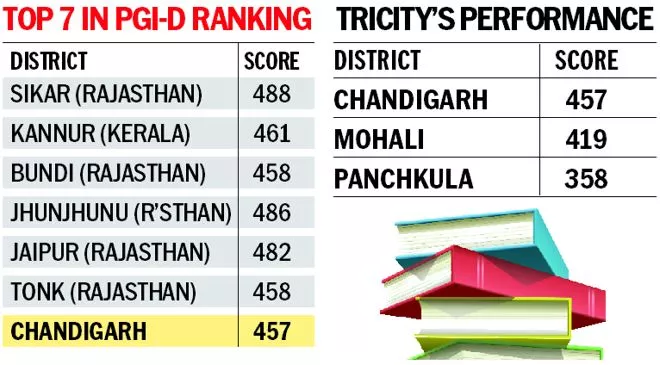 The six sections of the PGI-D structure include outcomes, effective classroom transactions, infrastructural facilities and student entitlements, school safety & child protection, digital learning, and governance process. A total of 600 points are weighted among 83 indicators.
The goal is to assist districts in prioritising school education intervention areas to raise test scores. In terms of school rankings for the Performance Grading Index (PGI) for 2021, Chandigarh came in second.
Keep watching our YouTube Channel 'DNP INDIA'. Also, please subscribe and follow us on FACEBOOK, INSTAGRAM, and TWITTER.