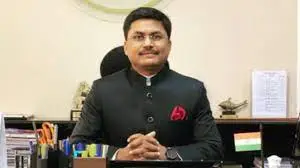 IAS aspirants know that cracking UPSC requires a tremendous amount of hard work and dedication. On social media, people are seeing a lot of inspiring stories about people who overcame obstacles to get into UPSC. Another IAS officer's message recently went popular on social media, but this time it wasn't about how he suffered, but rather on his former academic performance.
A post on social media about IAS officer Awanish Sharan has gone viral; the article states that Awanish received poor grades in classes 10 and 12 due to his academic performance in school and college.
This social media post on his academic success is getting a lot of attention.
Must Read: ECIL LDC Recruitment 2022 Notification
"Yes, I received such grades in school/college," she says, "but this should not be used as an excuse to avoid studying and get terrible grades." Awanish Sharan said.
According to Awanish, he received 44.5 percent in class 10 and 65 percent in class 12. He graduated with a 60.7 percent grade point average and went on to become an IAS officer after a lot of positivity, hard work, and devotion.
After that article went viral, Awanish began receiving several messages and emails regarding his grades, as well as various complaints. He chose to use Twitter to address the issue. "This social media post regarding my academic performance is going viral," he wrote.
He added that, "Hundreds of messages have been sent to me inquiring about its truth. Yes, my grades in high school and college were bad, but this should not be used as an excuse for not studying and receiving poor grades."
Keep watching our YouTube Channel 'DNP INDIA'. Also, please subscribe and follow us on FACEBOOK, INSTAGRAM, and TWITTER.