Kunwar Shekhar Vijendra met the Prime Minister, Shri Narendra Modi today in the PMO and sought his guidance on the new pathways in the field of education and skill development.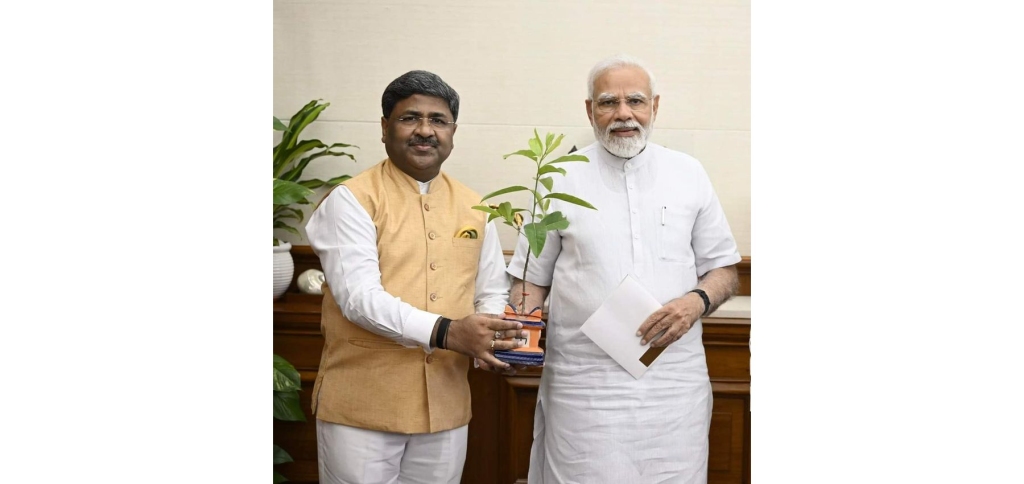 "Met Hon'ble Prime Minister Shri. Narendra Modi Ji at the PMO, India. It is inspiring to see his keen interest in NEP 2022 and skill development. Gifted him a Rudraksha sapling. Thank you, Sir, for your love and affection. Please keep guiding, empowering, and inspiring us, Tweeted Shri. Kunwar Shekhar Vijendra today."
The New Education Policy is all set to change the landscape of education in India. The central government introduced the New Education Policy in 2022. The focus of the new policy is on skill development, allowing the students to acquire the requisite training to bolster their prospects.
The Prime Minister has spoken several times about the sweeping changes the new policy would bring to the education vertical in India.
MUST READ: RBSE 10th, 12th Result 2022 Date To Be Announced Soon
Kunwar Shekhar Vijendra is Chancellor of Shobhit University Meerut, and Shobhit University Gangoh, Uttar Pradesh. He is a social entrepreneur based out of New Delhi who guides several organisations through his leadership qualities. He has been awarded numerous honorary positions and awards, including the prestigious Lions International Award for Selfless Service to Humanity.
He is a pioneer and a visionary in the field of education and empowering the rural youth is very close to his heart. He considers skill development and education as the main tools that uplift the quality of the youth.
Kunwar Shekhar Vijendra is a self-motivated person who wants to contribute to the dream of Shri Narendra Modi of regaining India's position as "Vishwa Guru."
Keep watching our YouTube Channel 'DNP INDIA'. Also, please subscribe and follow us on FACEBOOK, INSTAGRAM, and TWITTER.