Higher Education: According to the All-India Survey on Higher Education (AISHE), conducted by the Ministry of Education, and Based on actual response at undergraduate level, enrollment Engineering & Technology (11.9%) The degrees awarded in 2021 are as follows.
| | | |
| --- | --- | --- |
| Degree Granted | No of graduates | Percentage |
| B. A. | 20,50,000 | 36.08% |
| B. Sc. | 11,30,000 | 19.89% |
| B. Com | 10,20,000 | 17.95% |
| B. E. & B. Tech | 8,25,000 | 14.52% |
| B. Ed. | 6,14,000 | 10.81% |
| M.B.B.S. | 42,744 | 0.75% |
| Total | 56,81,744 | 100.00% |



According to the Confederation of Indian Industry (CII), the employability trend among Indian graduates is moving in the right direction. For the first time, the national average for graduate employability has reached 50% from around 40% in 2017. The pandemic reversed the upward trend in employability, but we are back on the right track. After the shift in market trends, compounded by the double whammy of Covid-19 and recession, recruiters are now looking for multi-talented employees who can complement technical competency with strong professional skills like. Employers want to hire 21st century employees, who can be cognizant of the big picture, step out of their comfort zone, be cognitively willing to learn, but most importantly, be both technically sound and have great soft skills such as critical thinking, leadership, problem-solving, and adaptability.
NEP
The National Education Policy lays particular emphasis on the development of the creative potential of everyone. It is based on the principle that education must develop not only cognitive capacities – both the 'foundational capacities 'of literacy and numeracy and 'higher-order' cognitive capacities, such as critical thinking and problem solving – but also social, ethical, and emotional capacities and dispositions. The document defines Complex Problem Solving as follows:
Complex problem-solving: The graduates should be able to demonstrate the capability to solve:
different kinds of problems in familiar and non-familiar contexts and apply the learning to real-life situations.
'An example of an experience to develop problem solving abilities is Field visit to Swachh Bharat project sites, conduct analysis and initiate problem solving. 'An example of an experience to develop problem solving abilities is Field visit to Swachh Bharat project sites, conduct analysis and initiate problem solving.
Problem-Solving in Higher Education
What is the difference between "solving problems" and "problem solving"?
Solving problems is more an exercise of applying some previously learned procedures. Practice helps students get better at application. This is something that is done very commonly in our HEIs. A faculty member or instructor demonstrates a procedure and assigns students a similar problem to use the same procedure.
Problem solving involves the selection of a method or procedure not known or learned before. The student would be required to analyze the problem to be solved and select a method that is known or unknown. If the student must apply an unknown method, then they are required to explore / self-learn / peer learn the method or procedure to be applied to the problem. Further the student may also be required to decide on whether the problem to be solved can be done so alone or with the help of others. As can be seen from the above description, "problem solving" is cognitively more complex than "solving problems". So how can HEIs work to help students move from the latter to the former?
Some ideas to facilitate problem solving
Problem solving is an essential skill for students to learn. It can help them in all areas of their lives, from academics to their personal and professional careers. As instructors we can help our students develop problem-solving skills by following these tips:
Plan for more time than anticipated. Don't try to cram too much into one lesson. Allow students time to understand the problem, define the goal, and make mistakes.
Use context. Students are more likely to remember problem-solving skills if they learn them in the context in which they will be used. For example, if you are teaching moment arm calculations in physics or ultimate stress for steel arches, use real-life problems in your explanations and examples.
Assist the students in understanding the problem. Before students can solve a problem, they need to understand what the problem is and what the goal is. Ask questions to help students clarify the problem.
Demostrate. Show students how to be patient and persistent, and how to follow a structured problem-solving method. Articulate your method as you use it so students can see the connections.
Converse with students freely and frequently. Ask students to predict what would happen if something were different, or to explain why something happened. This will help them develop analytical and deductive thinking skills. Also, ask questions and make suggestions about strategies to encourage students to reflect on the problemsolving strategies that they use.
Mistakes are rungs on a ladder. When students make mistakes, don't assume that they are careless or guessing. Use the errors as evidence of misconceptions and try to isolate and correct the misconceptions. Then, teach students how to identify and correct their own misconceptions.
It would also be helpful to consider the following instructional culture to foster problem solving skills.
Use a variety of teaching methods, such as discussions, group work, and hands-on activities.
Provide students with opportunities to practice problem solving in a safe and supportive environment.
Encourage students to think creatively and to come up with multiple solutions to problems.
Celebrate student successes and provide feedback on their work.
This brings us to the level to which students must develop their own problem-solving skills in order to be a useful arrow in their quiver to help them progress professionally
Problem Solving in the Workplace: Most graduates who enter the workplace, would be expected to master problem-solving skills or even better – to have a certain level of mastery at entry to hit the ground running. The workplace would expect different levels of problem solving from different roles, but eventually, the employee would be expected to hit "Type 1". These behaviors can be exhibited by people at all levels. There could be more types between Type 3 and Type 4, but the four major types described below.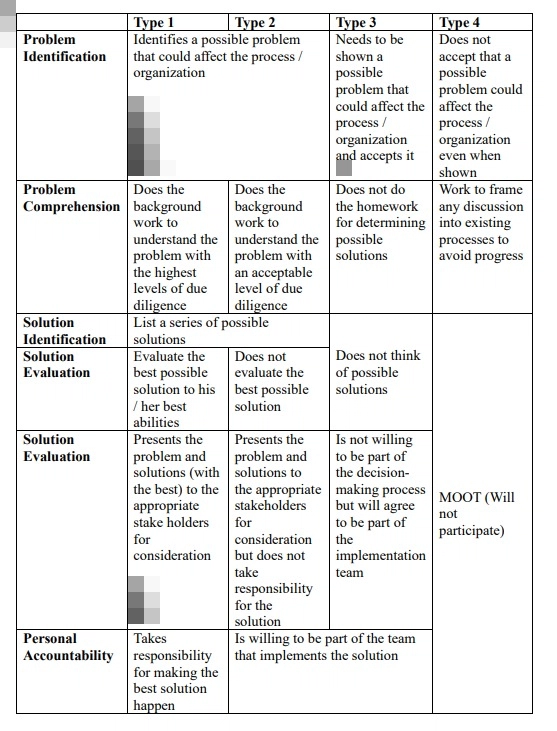 Conclusion
The CII data seems to indicate that, as a country overall, we are on the right direction. Nevertheless, with the new NEP 2020 emphasis on Complex problem solving as part of imparting 21st century skills, Indian HEIs should endeavor to move from "solving problems" to "problem solving". In conclusion, it would not be selfish of us to dream of Indian graduates being 70% employable in the next 5 years, which is what we should strive for.
Contributed by Dr. Balaguruprasad Narayanan, Associate Professor, Teaching and Learning Centre – SRM University – AP.
Views expressed are personal.