After welcoming the Chief Guest, the Hon'ble Education Minister and other guests, JMI Vice Chancellor, Prof. Najma Akhtar (Padma Shri) presented the university report and addressed the gathering. She gave a pleasant surprise to the audience by announcing that JMI got the approval from the Union Government to set up a Medical College which was her and the Jamia fraternity's long cherished dream. The announcement received grand applause by the audience comprising JMI faculty, non-teaching staff, gold medallists and the Ph.D. passed-outs.
Prof. Akhtar expressed her gratitude to the Union Government led by Hon'ble Prime Minister Shri Narendra Modi for all the support and guidance that helped JMI to achieve greater heights. She said "I feel extremely privileged and fortunate to be working under the progressive leadership of our enlightened Prime Minister Shri Narendra Modi.  It is his constant and strong support that we are able to move ahead so remarkably and achieved extraordinary progress".
Plans to strengthen 'Brand Jamia'
In her address, the Vice Chancellor highlighted various achievements of the university in the last few years and the future plans to further strengthen the 'Brand Jamia'. She announced that JMI is exploring possibilities to open overseas campus in middle-east and other foreign countries and wants to strengthen its bounding with its alumni across the globe.
Hon'ble Education Minister, Shri Dharmendra Pradhan congratulated all the successful students and JMI fraternity for the convocation. He wished good luck to students for their future endeavours. He said institutions like JMI are providing intellectual leadership and playing a pivotal role in the Amritkal. "Today, when the whole world is looking at India and its system, I hope that JMI will produce global humans as per the requirements of NEP that will ultimately reduce the inequality between the western world and global south."
Aim to make JMI an Urban Research Centre
On setting up a medical college at JMI Shri Pradhan said that JMI will not just start a medical college but we should try to make JMI an Urban Research Centre to solve the complicated medical issues of the world.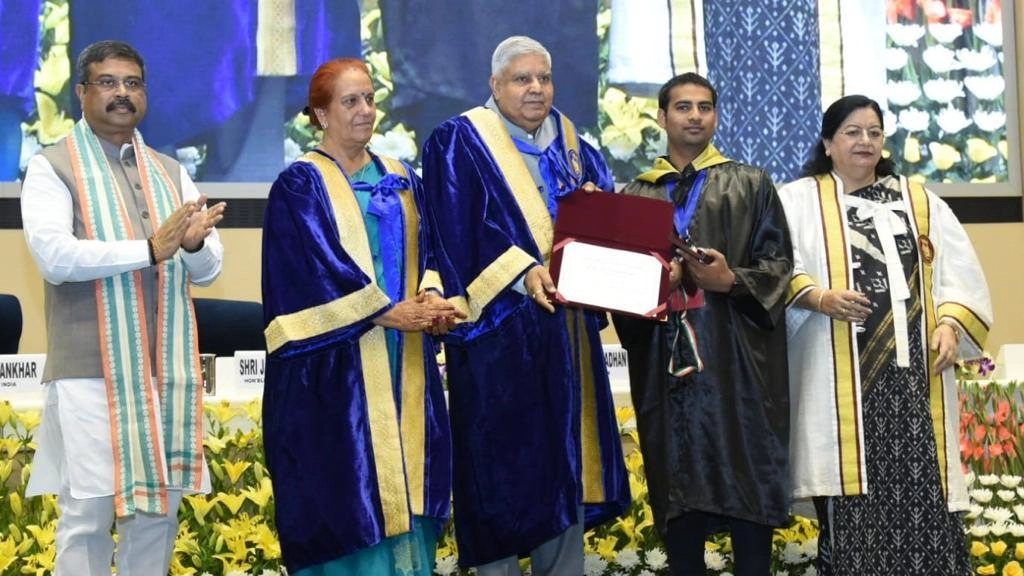 Hon'ble Vice President, Shri Jagdeep Dhankhar complimented all the graduating students, teachers and parents. He said to students "You have earned your degrees, but learning is a life-long passion. You have acquired knowledge through education and now you must carefully cultivate this knowledge to harvest the wisdom".
Vice President's word of wisdom
The Vice President further said "Be like a river – meander, choose your own path and act on your inclination and aptitudes. Never allow yourself to be dictated when it comes to your own idea". He also said that as warriors of 2047, you must drop on the insights instilled by your alma mater and utilize them to contribute towards nation building.
A 'Gold Medal Distribution Ceremony' was organised at Dr. M.A. Ansari Auditorium of the university in the evening where Hon'ble Lieutenant Governor of Delhi, Shri Vinai Kumar Saxena, distributed Gold Medals to the toppers.
Earlier she was formally welcomed by the Hon'ble Vice Chancellor, Prof. Najma Akhtar.